Published in the Badger Sportsman Magazine, July 2005
By Todd Forcier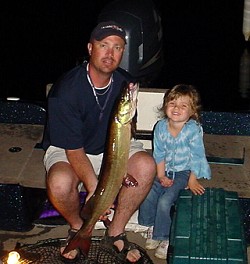 As was I, many of you were introduced to this sport by your father. Through the years, we were shown the "rules of thumb" to catch fish. Some of us experimented with various lures and techniques, and some of us just enjoyed the basic style of fishing using a bobber, hook and bait. Nonetheless, we just enjoyed being out with our dad.
As the years have passed, it is now my turn to be the dad and teach the finer points of fishing to my daughters. My youngest, Kalie, has really taken to the sport. She has become my fishing partner catching everything from walleyes to crappies to muskies.
A couple of tricks of the trade I've learned over the years have enabled me to remain on the water for a longer period of time. A few of these nuggets of wisdom are to bring some snacks with you, perhaps a back pack with dolls, a few pencils and some paper, and any other item that will occupy a child?s time and attention. I will be the first to admit that kids simply will not fish all day. They need breaks during the excursion and items such as those mentioned should keep them entertained during the more boring times.
When we are fishing for crappie or walleye I will get minnows for them to play with, or place a fish in the live well for them to adopt and care for. This little maneuver goes a long way for dear old dad to get some more quality time on the water.
Weather can also be a factor. While true outdoor enthusiasts can handle adverse conditions such as rain, wind, or choppy waters, when it comes to kids, these conditions mean other activities for the day or an afternoon's entertainment.
Safety must always be first and foremost. All of my girls know if they're on the dock, next to the water on shore, or in the boat, their life jacket must be on. As curious and inquisitive as kids can be, in a blink of an eye they can be in the water. If you truly love your children and want to watch over them you buckle them up securely in your vehicle and ensure their life jackets are on in the boat.
Lets talk about Kalie?s passion?musky fishing. Already in her short fishing career she has landed three muskies. A 34″, 36″, and her largest thus far is a 38-incher.
Her fishing rod of choice is a St. Croix Rod and we just upgraded to a new Zebco 404 reel. The Zebco 808 was just a bit too heavy for her. The "close face" reel with the push button has worked very well for her. She uses 27 lb.-braided line with an 8-inch leader.
A tip to save a rod and reel from falling out of smaller hands is to take a leather string and secure one end to the reel set and the other end can be fashioned into an adjustable loop for the wrist. With my daughter's smaller, weaker hands this trick has saved her rod & reel more than once.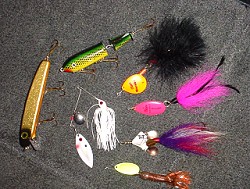 Kalie has a small amount of tackle consisting mostly of bass size spinners and buzz baits, smaller Mepps #5 bucktails, smaller Triklops by T-N-T Tackle and some smaller shallow cranks like the baby shallow raider by Roberts Outdoor. But her favorite lure is the baby Stomper (a prototype that never made the market) because she can see the lure as it comes in (I would like to note that two of her fish came on topwater)!
When we're fishing she is usually in the back of the boat casting away. Once in awhile she?ll fish up front with me, or I may ask her to come up front to make sure she covers an area completely. Her casts are from the side and reach about 20 to 25 ft. We are working on the "over the shoulder" cast in the back yard. She?s learning to do figure eights after each cast. There are times when she and I fish together. I'll cast out, kneel down and hold the rod while she reels. If we hook into one, we'll fight the fish together. When we get the fish up to the boat she?ll assist me with netting the fish. This is definitely a Kodak moment and the expression on her face is simply PRICELESS.
Following the netting of her fish, we will measure it, take pictures and then we'll place the fish back into the water. She'll lean over to hold on to it until the fish takes off. While this doesn't always go as planned, we talk about releasing the fish each time we catch one. I truly believe she understands the importance of catch & release.
Times spent on the water with my children are those unforgettable moments in life that make you a proud father and they have been some of the most precious experiences of my life. I truly hope you can take one or more of these suggestions and give you many quality hours with your children on the water.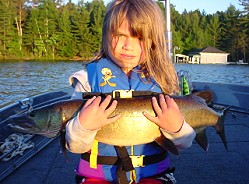 Kalie